"From every book written by Tom Riach you will gain unique insights to success; you will laugh, you will reflect upon your own character, and sometimes you will just sit in awe of his mastery of life, business and the simply written word."
- Randy Ireland, Sulphur Springs, Arkansas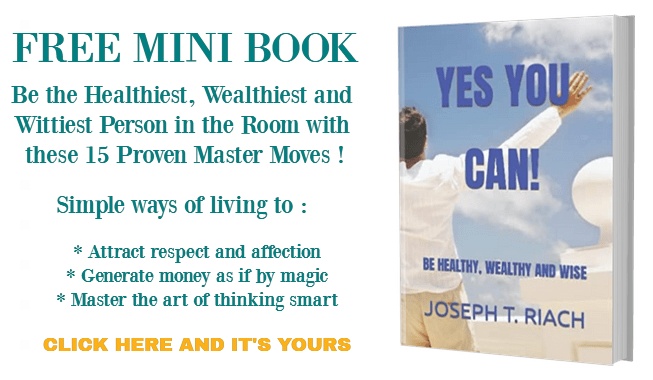 A NEW YEAR - A NEW ROAD!
Get my ROAD TO JOYFUL LIVING! paperback.
Now at 75% OFF list price at just $5.05!

... AND as part of my fantastic THREE FOR ONE DEAL!
Read it in paperback and get Any Two of my other titles in ebook format completely free as part of my
1 paperback plus 2 free ebooks 'three-for-one' promotion. Full details here - THREE FOR ONE!

All my current TITLES in Paperback and Kindle
As an entrepreneur I've learned a lot about successful living and how to make the most of whatever life throws at me. So as a business consultant, life coach and writer my mission is to inform, inspire and ignite you to take action; to seize control of your own life by leveraging your own skills, talents and abilities in the same way as I have done. Learning and earning should be fun, so my books are both humourous and enlightening. Texts are based on my own real life experiences and expressed in simple, easy language. I'm told that they are a joy to read and very often life changing too! Judge for yourself.

NOVELS
Too Early For A Glass Of Wine? / New Suspense Thriller - Coming Soon!

SUCCESSFUL LIVING
Because I Feel Like It / Mastering The Art Of Making Money / Self-Improvement Should Be Fun / The Road To Joyful Living / The Secret World Of Self-Employment / The Simplest Sales Strategy / Winning Big In Life And Business / Yes You Can
Readers' Reviews.
Genre - Self-Employment
THE SECRET WORLD OF SELF-EMPLOYMENT
Paperback & Kindle

Setting up your own business is one thing but can you always make money from it? Are there ways to absolutely ensure that you always make profit? Tom answers 'Yes' to both points and in this explosive book reveals his secrets of self-employment which have remained locked in his mind until now. Tom shows you ways of working which will enable you to not just prosper on your own, but to drive your enterprise to exceptional heights - into a secret world of phenomenal achievement! A secret world he uncovers with candour and clarity, personal experiences and his trademark wit. Be prepared to be astounded. This is a quite extraordinary book. Read critical review HERE and click HERE for Amazon sales page.
Genre - Successful Living
THE ROAD TO JOYFUL LIVING!
Paperback

WHAT is self-improvement? WHY work at it? Tom has spent a lifetime addressing just those questions and helping others to create happy lives. Lives based on the simple principles of free thought and the power of self-determination which he himself practices. With a gift for inspiration, encouragement and humour, Tom sets out with authority and clarity his generous and joyful ways to live your life to the full. Vividly illustrated with his real life experiences, professional insights, personal views and fun stories, Tom shows how to make gratitude and enjoyment central to all that you do – and become a better person in the process! "As good, or better than, any of the books I've read by the so-called 'masters' of self-development and success books/training!" - D.M., San Antonio, Texas. (In Kindle as 'Self-Improvement Should Be Fun!'). Read critical review HERE and click HERE for Amazon sales page .
Genre - Self-Assertion
BECAUSE I FEEL LIKE IT!
Paperback & Kindle

Be the boss of your own thoughts and actions! In this extraordinary story Tom describes how he has profited hugely in life from simply being 'his own man'. With wit and insight he shows how he has lived a life free of intellectual or physical interference, propaganda and mindless chatter. Now he encourages you too to become an independent force with his quick and easy ways to practically transform yourself from being one of the crowd into an independently assertive hero bossing your own thoughts, opinions and actions. Be prepared for surprises. His promptings are not what you might expect. Then again, thinking beyond the confines of conventional wisdom is the very essence of an independent mind at work! Read critical review HERE and click HERE for Amazon sales page.
Genre - Personal Finance
YES YOU CAN!
Paperback & Kindle

This express guide to health, wealth and wisdom packs a mighty punch! Tom shows you quickly and easily, exactly how to establish all three elements in your life in the same way he has done – but without the time and effort he expended. Health, wealth and wisdom beyond your wildest dreams are yours for the asking with his 15 simple and fun MASTER MOVES! Easy strategies guaranteed to enrich your life in every way imaginable - starting today! With his inimitable mix of real life experience, professional insights, personal views and fun stories, Tom's express way to all round well-being is another dazzlingly powerful experience. It's the book which all people seeking a rapid boost to their lives and finances have been longing to read! Read critical review HERE and click HERE for Amazon sales page - or receive a Free E-version of 'Yes You Can! HERE.
Genre - Personal Promotion
THE SIMPLEST SALES STRATEGY
Paperback & Kindle

Can you sell anything to anyone just by being yourself? I say 'Yes'! And in this book I reveal how and why. Every single person on the planet sells every day whether you know it or not - the act of attracting a mate is the perfect example - and what you sell is, yourself! So you may as well know why and how you sell and you had better do it well. Thus armed you will improve your life and relationships, increase your financial wealth, raise your self-esteem and how others perceive you and you will be prepared to sell professionally at a high level where that is your aim. So whether just an ordinary guy intent on becoming a better communicator or one with aspirations to be a top sales professional then this book is for you. It provides an easy and quick way of ensuring that you are promoting yourself to the full and are on top of every situation ... professional or otherwise. Read critical review HERE and Click HERE for Amazon sales page.
Genre - Personal Finance
MASTERING THE ART OF MAKING MONEY
Paperback & Kindle

Why can one person create vast wealth with apparent ease, whilst another flounders in permanent poverty? Is there a secret to success known only to a few? I assert that there is no short cut to riches but that there is an art to making money based on the manner in which you conduct your life; and by altering the way you think of success and by following my simple strategies you may well come to master it! With a mix of real life experiences, fun stories, professional insights and a powerful punch, I disclose in exact detail how to fulfill your dreams of wealth and prosperity. This book is my blueprint to spectacular financial success. The life of which you dream is here within your grasp! Read critical review HERE and click HERE for Amazon sales page.
Genre - Life And Business
WINNING BIG IN LIFE AND BUSINESS
Paperback & Kindle

"Do you dare to be different? Do you want to own your own future? If so, just waiting for things to happen will involve a long wait! You need to grab control of your own destiny and this book will help you to do just that. The title says it all! Tom Riach brings the full weight of his extraordinary entrepreneurial experience to bear with his remarkable revelations. In a series of easy lessons and fun stories he explains how determination and working smart are the keys to great achievement and shows how you can copy his success. Reading the first part will change the way you live your life; reading the second part will transform your view of working for yourself; and in the third part Tom reveals - for the first time - how to acquire substantial businesses totally free of cost and then run them without spending a dime! Stand by for a truly life-changing experience. As with all of Tom's works, this one is easy to read and laced with humour. From every angle, the read is an absolute gem." Read critical review HERE and click HERE for Amazon sales page.
Genre - Successful Living
SELF-IMPROVEMENT SHOULD BE FUN!
Kindle

"This book gives a gloriously original view of personal development, what it is and what it means. It is seriously well written, addresses the topic with real authority, is often very funny and is inspirational too! There is no other book on the subject comes close to matching the author's unique mix of gravitas and humour. Joseph T.Riach (Tom) has brought his lifetime of experience in assisting people in their lives and businesses to life in vivid fashion in a rich blending of his personal views, experiences, anecdotes and conclusions. He expresses with authority and clarity his belief that bettering yourself should be an enjoyable endeavour and helps you to identify why and how personal development will work for you. His motto is to live life, laugh and love! - and become a better person as a result." (In Paperback as 'The Road To Joyful Living'). Read critical review HERE and click HERE for Amazon sales page.
Genre - Mystery & Suspense Novel
TOO EARLY FOR A GLASS OF WINE
Paperback & Kindle

"Chillingly Brutal – Seriously Funny - Profoundly Uplifting". Four Complete Strangers - One Common Destiny. What is the secret that binds them? - Who is the young traveller arriving at an obscure destination in search of an unknown saviour and hoping to find his future? – Who is the author relaxing in luxury while reflecting on a life well lived and the love and serenity of spirit he has earned through it? - Who is the mysterious Josmas, managing his vineyards and making fine wine while dispensing philanthropic wisdom in his remote French château? - And what will become of little Tommy, the tormented boy with a single-minded ambition, growing up in simmering rage and solitude? Where will their paths cross? How will the mystery unravel? A saga of true grit, revenge and redemption - with a cast of characters straight from Dickens and a finale fit for The Godfather. Tom's story is both fanciful yet unnervinglyly real; it builds to an inspiring climax as thought-provocative as it is stunningly unexpected. Read critical review HERE and click HERE for Amazon sales page.
Genre - Political Thriller
TITLE TO BE ANNOUNCED
Paperback & Kindle

In the years 1959 and 1984, two shattering events of major historical impact occur in the United Kingdom. They are entirely unrelated - or are they? Tom Riach weaves a thrilling yarn bringing real-life events together in a fictional tale of the tortured life of a survivor of the first who becomes the antagonist in the second. It's a masterful story of catastrophe, intrigue, love gone wrong, conspiracy and deceit. A classic piece of mystery and suspense story-telling guaranteed to keep you on the edge of your seat right through to the explosive finale! Read critical review HERE and click HERE for Amazon sales page.